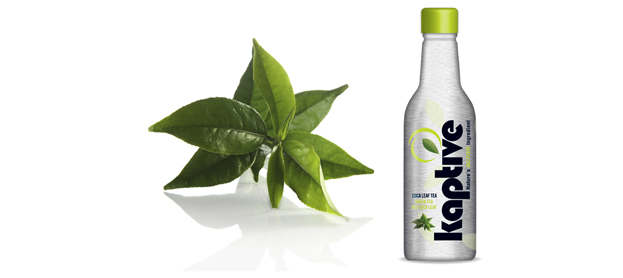 Kaptive Cocaleaf and Green Tea
Kaptive Cocaleaf and Green Tea Is a fresh beverage developed to deliver the positive effects of its natural ingredients: Green Tea extract and Coca Leaf concentrate.
NATURE'S ACTIVE INGREDIENT
Coca Leaf benefits:
Stimulates and revitalizes.
Relieves hunger.
Fights fatigue.

Fights altitude sickness.

Increases the sense of wellbeing.

Aids the effects of stress on the digestive system.

Aids weight reduction and physical fitness.
Fast-acting antidepressant.
Enhances resistance and energy.

Stimulant substitute for coffee.
Green Tea Benefits:
Helpful in the fight against:
Cancer.
Rheumatoid arthritis.
High cholesterol levels.

Cardiovascular disease.

Infection.

Impaired immune function.

Tooth decay.
Key Ingredients:
Water, Sugar, Coca Leaf 0% alkaloid concentrate, Green Tea concentrate, Citric Acid, Malic Acid, Sodium Citrate, Natural Tartaric Acid, Goma de Xantano and Ascorbic Acid.